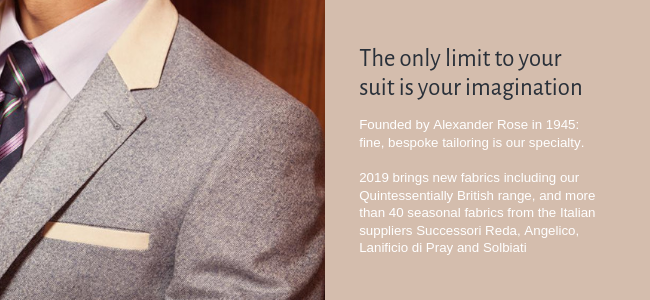 Coming to you to measure and make your perfect suit
Because when you look good, you feel great. And nothing looks better than made-to-measure.
We're delighted you're considering a made-to-measure suit or jacket. Whether you have unique measurements, or you no longer want to fit the mould with everyone else, you're going to be over the moon with the process and the delivery.
From here you can discover what makes Alexander Rose a cut above the rest.
Book your no-obligation request for a quotation, or take a look at the Tailoring Process here.
When you look good you feel great.
Enjoy that special feeling of have your own personal tailor who will visit you at your home or office to measure you for your custom jacket or suit. Our garments are carefully crafted by one of Europe's top tailoring houses to your own individual style and taste whatever your size or shape.
__
Surprisingly affordable, having a fully-tailored suit allows you to step outside of the predefined moulds set by high street retailers. And Alexander Rose goes a step beyond the rest, selecting the finest quality fabrics, including quintessentially British examples. The finishing touch is the exemplary eye for detail which ensures we can guarantee the perfect fit for your suit or jacket.
Coming to you: At a Time to Suit
Being a visiting service is one of our distinguishing characteristics. We recognise many of our clients are very busy people. We primarily operate within London and the North of England offering made-to-measure, bespoke tailoring.
We also offer a limited service to other UK areas and a special measuring service in the Savile Row offices of our fabric partner, Holland & Sherry at 9-10 Savile Row, London by appointment only.
Our visiting tailor provides a flexible service and can visit you at your home or office, during the day, evenings or at weekends - as always, the choice is yours. Please fill in the form and our visiting tailor will be in touch very soon.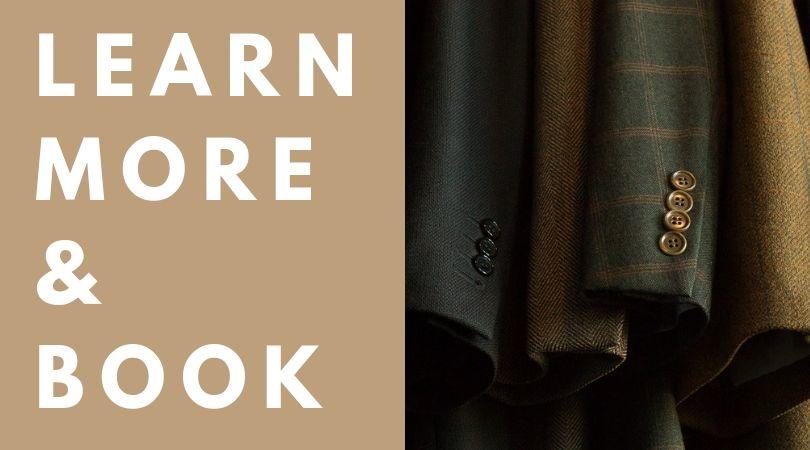 Quality down to the last detail
We are passionate about quantifiable quality standards from the cloth selection, garment construction, the actual fit of the garments, the styling of the garments right down to the last detail.
We regard any garment as your investment and therefore we constantly strive to make sure that the high standards we work to are not just lip service to quality but quantifiable and measurable standards.
Read on, and request a quote below. You may well find that a very high quality tailored suit is more affordable than you may have imagined, and you might wonder how you ever did without it.
The fabrics we use
The fabrics we use are all 'fit for purpose' and range from solid Yorkshire worsteds through to exclusive superfine international fabrics from the world's finest mills and cloth merchants. They include Holland & Sherry, Scabal, Dormeuil Loro Piana J G Hardy etc.
We discuss with you the type of garments you are looking for and advise the best fabrics for you. It could very well be that we come in below your budget if we feel that we have a fabric that would be just right for you.
Quality standard
Many tailors at the lower end of the market confuse customers by using 'quality' to describe terms as hand-cut, handmade, hand-finished etc as if this is somehow the sole benchmark on how to judge the quality of a garment.
Unfortunately outside of Savile Row, a garment made this way may not have the same standards that we offer in our garments. The difference is that our garments are cut and manufactured using world-class technology incorporating traditional methods adapted to the 21st century.
Superb fit and style
The advanced technology enables us to have a different type of measuring and fitting system. This produces garments that fit and are styled to the highest international standards.
Price
We want our garments to be affordable, and therefore we keep our operating costs as low as possible. We, therefore, create better value for money for our customers, in turn we receive repeat business and referrals from highly delighted customers.
A perfect fit
Your size, your posture, your figuration, the shape of your body all change the way a suit fits. Short, tall, big or small, we can make adjustments for all the little details that make you who you are.
Our visiting Master Tailor, Harold Rose.

As part of The Alexander Rose service, we come to your home or place of work and measure you for an exact fit.

You can now be confident of not only looking good but feeling great with clothes that fit you and your personality. It doesn't matter how tall, short, thin or fat you are, the technically advanced measuring system means that you can have perfectly fitting garments made to fit you.
A custom-suit literally sets you apart from the generic one-size-fits-all culture and is an outward sign of your inner appreciation for quality and craftsmanship, as well as your individuality.
Allow us to present you with a no-obligation quote which will meet all your requirements: